There are many reasons why doing a Master of Business Administration is a key to a successful career; young professionals pursuing MBA are guaranteed to acquire exceptional managerial skills and to obtain high-level positions with high salaries. Where to do an MBA? Find out why EMLV, a business school located in Paris, is the best option.
Closely following the worldwide digital transformation and the ever-growing need for operative professionals in the field of digital marketing, EMLV, a Parisian business school, offers a full-time programme in English. The course aims to provide the students with the tools to analyze the digital industry and to teach them essential leadership and management abilities.
Study right where the business action is
Located in the heart of Paris' business district, the largest in Europe, the school offers a fantastic environment. La Défense business district counts 1500 companies, 15 of which are among the 50 best in world rankings. Students can access shopping malls, visit landmarks and pass by famous artpieces in this one of a kind district.
EMLV is situated in a campus with state-of-the-art facilities; eleven amphitheaters, 183 classrooms, 25 labs, a learning-center, co-working areas… Last but not least, beautiful Paris is only a few subway stations away, offering an endless amount of opportunities.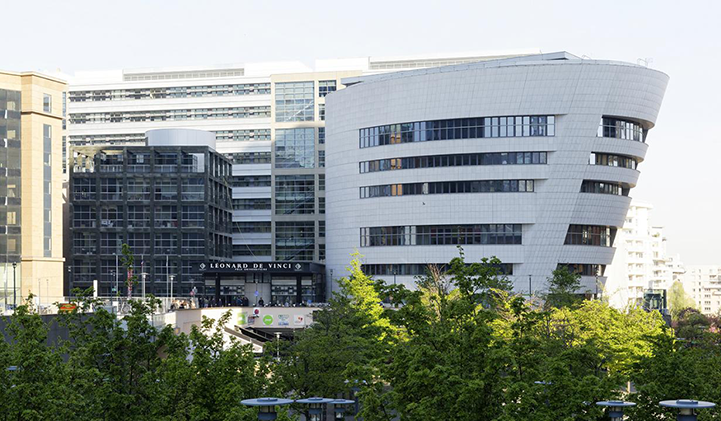 Benefiting from a multidisciplinary campus
EMLV is situated in a multidisciplinary campus, giving the opportunity to meet and study with students from the engineering school ESILV and from the webdesign and multimedia school IIM. All of them share the same views: cross fertilisation, professionalisation, internationalisation, social opening and sports. Future managers, engineers and designers are brought together through joint projects, a start-up incubator, double degrees and various extra-curricular activities.
A small step for MBA students, a giant leap for their networks
The exceptional location of EMLV is a great way to build a strong network of business links, easing the transition into a fulfilling professional life. The school's Corporate Relations Departments also assists MBA students in finding the required 6-month mission within a company – in France or abroad.
The alumni network is stronger every year and brings together professionals with shared values and a strong will to ensure their alma mater successors the best start in their career.
Extra-curricular activities to fit all tastes
A MBA requires dedication and hard work, whether in team or individually. Nonetheless, a higher education wouldn't be complete without the right amount of extra-curricular activies. The strong school-spirit is fostered by the student body's numerous associations, be they in relation with sport, culture, business, charity and many more. MBA students are welcome to attend all the events organized by the student union.
An attractive tuition fee
While maintaining the highest standards, the tuition fee for EMLV's MBA is more competitive than the MBAs pursued in the USA or the UK. The housing and cost of living will vary depending on the student's lifestyle. The International Relations Department provides students with housing options and helps them with any challenge they can face upon the arrival in Paris and throughout the course.
Read more about EMLV's Digital Marketing Strategy MBA.