MBA in Digital Marketing Strategy
An immersive experience at the heart of digital technology
Thanks to empirical and practical teaching methods, students will acquire technical as well as managerial skills. This dual competence facilitates access to positions such as digital project manager, digital brand manager, social media manager and search marketing consultant. Our MBA students, who come from different backgrounds, appreciate this context of diversity and experience sharing, which makes our course even more enriching.
MBA in Digital Marketing Strategy • RNCP accredited • 12 month programme • 60ECTS
Tuition fee: 11700€ • Intake: October 1st • Application deadline: July 1st
---
Our Students
Meet our MBA Digital Marketing Strategy students
The MBA students of EMLV share their experience on living and studying in Paris. This is their story.
The EMLV programmes have been designed to help students to reach their highest potential as future leaders.
Subscribe to EMLV on Youtube
Sorry, there was a YouTube error.
---
Learning outcomes
The MBA in Digital Marketing strategy aims to give the students the necessary skills to boost their career in the digital sector.
Students will learn with professionals from corporate partners and full-time faculty staff. They will learn how to anticipate the evolution of the digital economy, e-business and digital marketing.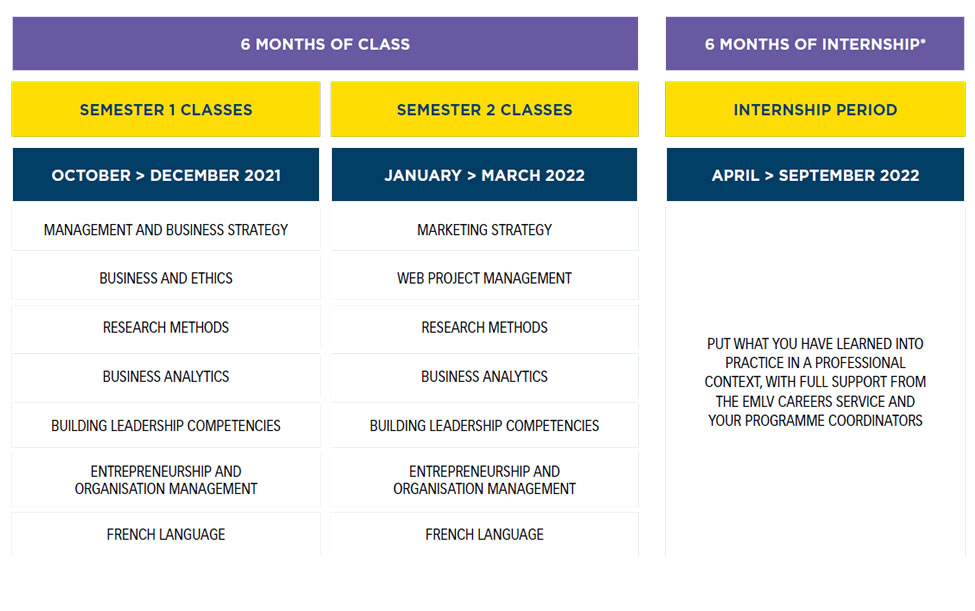 The MBA in Digital Marketing Strategy is the formula for success to help you to find your job in this connected digital world. Students will learn to master the latest tools used to orchestrate and automate marketing campaigns. They will learn how companies organise their tools, processes and digital resources. Students will also receive coaching to develop their personal and professional skills while working on their consultant project and challenges with real companies.
+ Building Leadership Competencies, Entrepreneurship & Organisational Management, Soft Skills & Research Methods
---
How to apply
Requirements
4 year undergraduate degree or 240ECTS or equivalent
Minimum 3 years of professional work experience
IELTS 6.5 (or TOEIC/TOEFL/CEC equivalent)
Native English speakers, and those who have previously graduated from a programme taught in English, are exempted
Application process: Online application + online interview
Learn more
For further information, please contact the International Admissions team : international.admission@devinci.fr

Whatsapp : +33 (0)7 86 16 74 66