MBA in Digital Marketing Strategy
The way to a successful career in the digital sector
The MBA in Digital Marketing Strategy is both general and specialised, its aim being to train operational managers. The aim of this MBA is to train operational managers with at least three years' professional experience who are looking to acquire and/or improve their knowledge in the field of digital marketing.
MBA in Digital Marketing Strategy • RNCP accredited • 1 year, full-time, 500h of class, projects and visits, 6 months internship, 60 ECTS credits • Leonard de Vinci School of Management (EMLV) • Paris La Défense Campus • Application deadline: July (applications received after July will be studied within the limits of available places) • Programme start: October
FOR MORE INFORMATION CONTACT
Zoë Jofeh
International Programmes Manager
Pôle Universitaire Léonard de Vinci
Tel : +33 (0)1 41 16 70 93
international.admission@devinci.fr
Apply now
---
General objective
The MBA in Digital Marketing Strategy is the formula for success to help you to find your job in this connected digital world. Students will learn to master the latest tools used to orchestrate and automate marketing campaigns. They will learn how companies organise their tools, processes and digital resources.
Students will also receive coaching to develop their personal and professional skills while working on their consultant project and challenges with real companies.
Learning outcomes
Students will be able to adapt to a constantly evolving professional environment and ecosystems thanks to the following skills: Proficiency in digital communication tools and social media; Creation of digital advertising campaigns; Management and coordination of online communities; Management of web development projects; Strong command of digital tools for better management of customer relations (e-CRM); Knowing how to analyse market data for better management of customer relations.
Blended Learning
Thanks to empirical and practical teaching methods, students will acquire technical as well as managerial skills. This dual competence facilitates access to positions such as digital project manager, digital brand manager, social media manager and search marketing consultant. Our MBA students, who come from all over the world, appreciate this context of diversity and experience sharing, making our course even more enriching.
---
Our Students
Meet our MBA Digital Marketing Strategy students
The MBA students of EMLV share their experience on living and studying in Paris. This is their story.
The EMLV programmes have been designed to help students to reach their highest potential as future leaders.
Subscribe to EMLV on Youtube
Meet Kayode: MBA Digital Marketing Strategy Student in Paris
At Station F with Joey, MBA alumni, co-founder and CEO of Woojo
Meet Lev, MBA Digital Marketing Strategy Student at EMLV.
Meet Diem, MBA Digital Marketing Strategy Student at EMLV
Meet Paras Kushiramani - MBA Student at EMLV
---
Programme overview
Our main objective is to provide the student with the tools to analyse this evolving sector.
At the end of the programme, you will be required to do a 6-month mission in a company of your choice (anywhere in the world) where you will put your knowledge into practice. EMLV will give you access to a list of internship and job offers in your field through its Corporate Relations Department, Alumni network, school and MBA partners.
Semester 1
MANAGEMENT AND BUSINESS STRATEGY
Management Strategy
International Case & Complex Negotiation
Finance for Business Development
Business Strategy in a Global Market
DIGITAL BUSINESS
Digital Economy
Law & New Technologies
Current and Emerging Trends in Digitization
Data Management & Statistical Methods
IT Security & Ethics
Social Networks in Human Resources & Recruiting

PROJECT MANAGEMENT
Entrepreneurship & New Venture Creation
Web Project Management I (create and manage website)
Web project management II (SEO / SEA, analytics)
UX Design
Consultant Project & Challenges
Research methods
Semester 2
MARKETING STRATEGY AND EMERGING TECHNOLOGIES
Online Reputation & Crisis Management
E-Commerce & e-CRM
Marketing 360, cross channel
Mobile Marketing
Social Media Marketing
Digital Advertising
E-mailing Campaign with MailChimp
PROFESSIONAL PROJECT AND PERSONAL DEVELOPMENT
Languages – French as a Foreign Language
Conferences & workshops on personal development, career development coaching and professional project
MBA Dissertation or Internship (from april to september)
Consultant project
A project centered approach : the students work with firms on digital and social media strategy acting as consultants by developing a digital marketing strategy. At the end of the project, the student will be able to apply the concepts, tools and methods taught during the course in a professional context.
---
How to apply
We offer an excellent work environment with state-of-the-art facilities in the heart of the largest financial district in Europe, Paris-la Défense.
From day one, when the International Relations Department meets you at the airport and helps you settling in Paris, you will get support from administrative and academic staff to make your learning experience in Paris really amazing!
Duration
One year, full-time programme
INTAKE : October
TUITION FEES : 11700 € per year
Number of places : 35
Titre RNCP « Expert en stratégie du marketing digital » (code 310 M) de niveau 1
Entry requirements
Master's Degree or Bachelor's Degree plus minimum 3 years' work experience.
English test IELTS 6.5 or equivalent requested Interview (either face-to-face or at distance)
For more information contact
Zoë Jofeh
International Programmes Manager
Pôle Léonard de Vinci
Tel : +33 (0)1 41 16 70 93
international.admission@devinci.fr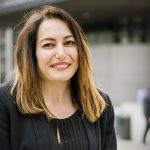 Prof. Basma Taieb
MBA Digital Marketing Strategy Programme Manager
basma.taieb@devinci.fr