MSc Digital Business Analytics
Optimize your World with the Power of Innovation and Technology
Study in Paris and experience one of the most advanced startup ecosystems and business hubs in Europe. MSc Digital Business Analytics is designed to provide students with competences and the know-how to thrive in dynamic business environments.
Master of Science with a major in Digital Business & Analytics • RNCP accredited • 1 year, full-time, 450h of class, projects and visits, 60 ECTS credits • Leonard de Vinci School of Management (EMLV) • Paris La Défense Campus • Application deadline: July (applications submitted after july are treated by remaining places) • Programme start: October
---
General objective
The MSc Digital Business Analytics explores diverse digital business models, analytical frameworks and new tools that shape today's business environment.
It prepares future consultants or managers to become executives and part of the international community in this digital world.
The course prepares students for career opportunities on the international scene in the field of digital business consulting, e-commerce, value chain management, digital ventures and business analytics.
Learning outcomes
Students will be able to make decisions in dynamic environments. They will know how to:
Analyse organizations and enhance them with digital transformation
Identify and use applied research techniques to solve complex problems with high levels of uncertainty
Develop and implement the technology strategy for organizations
Inform top management about risks and opportunities based on a data driven approach
Design Key Performance Indicators to follow business strategy implementation and measure performance
Organize procurement, vendor and supply chain management
Optimize business operations based on advanced business analytics
Evaluate and improve digital commerce strategy
Analyse, propose and estimate the value of digital business ventures
Manage global projects
Speak several languages
Master communication techniques
Carryout a research project – Dissertation
Propose solutions in the core business areas of international
Use digital tools in international
Blended Learning
The programme combines theory and practice to develop applied research skills needed to win in the digital age.
Students are exposed to real life business scenarios which equip them with core professional skills.
Faculty and staff consist of both international research professors and business professionals.
---
Programme overview
Participants will learn to master business analysis, advanced techniques and digital tools that will give them a competitive advantage in today's and tomorrow's business world.
The programme explores diverse digital business models, analytical frameworks and new tools that shape today's business environment.
Semester 1
DIGITAL BUSINESS
Digital Economy & Technology Strategy
Law, Ethics & New Technologies
Current & Emerging Trends in Digitization
Data Management & Statistical Methods
BUSINESS TRANSFORMATION
Innovation Management & Social Networks in Human Resources
Change Management & Digital Transformation
Gamification for Recruitment & People Analytics
Online Reputation & Crisis Management
BUSINESS ANALYTICS
SEO, Digital Advertising & Marketing Analytics
Demand Generation for E-commerce & Omnichannel Execution
Fintech, Financial Engineering & Banking Innovations
UX Design & Online Experiments
FRENCH AS A FOREIGN LANGUAGE
CAREER DEVELOPMENT
Semester 2
VALUE CHAIN MANAGEMENT
Operations Management
Simulation & Optimization
Applied Management Science
Internet of Things, Digitalization & Automation
BUSINESS GAME
RESEARCH METHODS
VISITS TO INTERNATIONAL FIRMS & FRENCH TECH
DISSERTATION OR INTERNSHIP
Career opportunities
The MSc Digital Business Analytics programme offers a wide range of opportunities for employment.
MSc students may aspire to leading roles such as:
Digital Commerce Strategist
Senior Business Analyst
Web Analyst and Marketer
Digital Business Consultant
Value Chain Manager
E-Commerce Sales Manager
Digital Transformation Lead
M&A and E-Business Analyst
Digital Financial Economist
Senior Community Manager
Digital Market Researcher
Manager of Digital Products
Business Analytics Manager
Digital Marketing & Media Lead
Head of Digital Operations
Digital Talent Officer
Demand Generation Lead
Digital Transformation Consultant
---
How to apply
We offer an excellent work environment with state-of-the-art facilities in the heart of the largest financial district in Europe, Paris-la Défense.
From day one, when the International Relations Department meets you at the airport and helps you settling in Paris, you will get support from administrative and academic staff to make your learning experience in Paris really amazing!
Duration
One year, full-time programme
INTAKE : October
TUITION FEES : 10200 € per year
Number of places : 35
Entry requirements
Applicants must have an International Bachelor Degree (240 ECTS or equivalent).
English test IELTS 6.5 or equivalent requested
Interview (either face-to-face or at distance)
For more information contact
Zoë Jofeh
International Programmes Manager
Pôle Universitaire Léonard de Vinci
Tel : +33 (0)1 41 16 70 93
international.admission@devinci.fr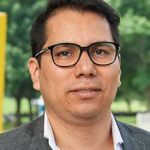 Prof. Erik Ernesto Vazquez
MSc Digital Business Analytics Director
erik.vazquez@devinci.fr