Master in Management
Managing in a Digital and Multicultural World
This two-year Master in Management, fully taught in English, provides an opportunity to study in the heart of Paris's business district. This Grande Ecole programme will give you both a practical and a theoretical approach thanks to diverse majors:
Corporate Finance

Audit and Control

Digital Marketing Strategy

International Business

Marketing Innovation and Distribution
24 month programme • 120ECTS • Tuition fee 9400€ per year
Intake September 1st • Application deadline July 1st
---
Programme Overview
A Unique Transversal Approach
EMLV is the only school in France to include a true transversal approach throughout its programme. Transversality is a pedagogical method that is possible with the support of two other schools located on the same campus: ESILV (Graduate School of Engineering) and IIM (Institute of Internet and Multimedia).
Course structure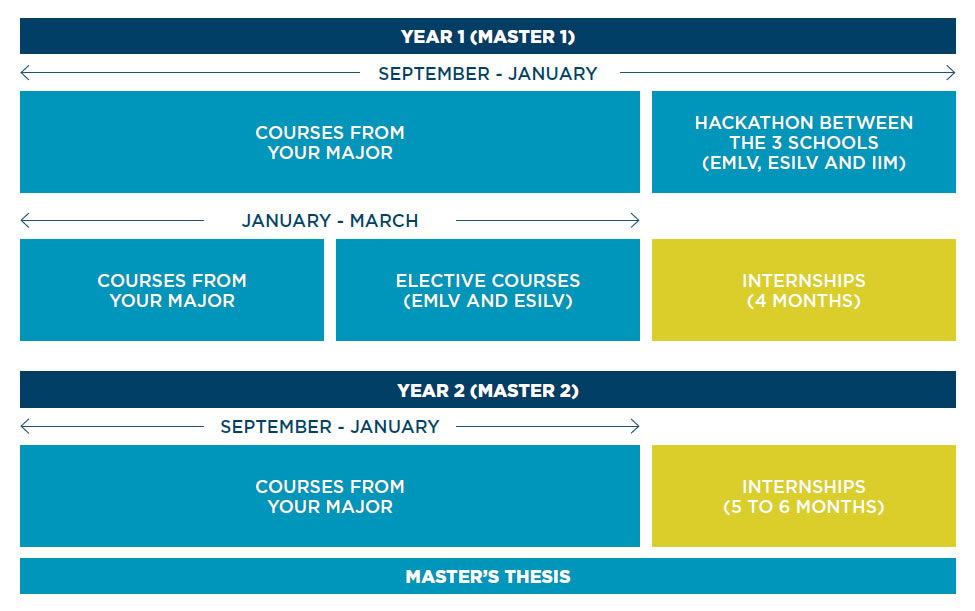 Majors courses
EMLV continuously adapts its programmes to ever-changing economic trends in order to ensure that students are taught the latest, most up-to-date
skills and knowledge. Major courses take into account company and job market needs and are all entryways into the student's desired professional occupation.
+ Consumer behaviour
+ Innovation & Technological change
+ e-business
+ Satisfaction, Loyalty & Customer Value
+ Digital Branding
+ Communication & Advertising
+ Market Data Analysis
+ Sustainable Marketing & Communication
+ Business Development Metrics and KPI
+ Community Management
+ Digital Business Planning
+ Data Management & Data Analytics
+ International Business & Consumer Law
+ Tools of e-CRM
+ Marketing 360°
+ Social Media Marketing
+ Digital Advertising
+ Online Reputation
+ Growth Hacking
+ IT Security & Ethics
+ Web Project Management
+ UX Design
+ SEO & SEA
…
+ Consolidation
+ Corporate Taxation
+ Cash Management
+ Financial Decisions
+ Introduction to Financial Analytics
+ Quantitative Data Analytics
+ Financial Markets
+ Financial Econometrics
+ Derivative Markets
+ Financial Auditing
+ European Taxation
+ I.F.R.S.
+ Financial Analytics
+ Blockchain & Finance
+ Corporate Valuation
+ Private Asset Management
+ Financial Engineering
+ Bloomberg Certification
+ Fiscal Engineering
+ Internal Audit & Risk Management
+ Cash Management
+ Business Law
+ Project Management
+ Banking Techniques
+ Mergers & Acquisitions
+ Financial Communication
+ Due Diligence
+ Private Equity
+ Financial Strategies
…
+ Economics
+ International Relations
+ International Business Responsibility (Ethics)
+ Emerging Technologies
+ International Team Management
+ Corporate Governance
+ International Marketing
+ Business Decisions & Data Analytics
+ Planning & Control
+ Operational Risk Management
+ Financial Aspects of International Business
+ Corporate Finance
+ New User Trends & Sociology
+ Communication Technology
+ Global Business Strategy
+ Geopolitics & Economic Stability
+ Global Risk Management
+ International Project Management
+ Digital Marketing
+ Big Data & Analytics
+ Cross-Cultural Marketing
+ Global Supply Chains
+ Import – Export
+ Business Negotiations
+ Int. business & Consumer law
+ Budgeting & Performance Reports
+ Managerial Accounting
…
+ Company conferences / Career development coaching / Internships and Master's thesis / Weekly French language classes …
---
How to apply
Requirements
4 year undergraduate degree or 240ECTS or equivalent
IELTS 6.5 or TOEIC/TOEFL/CEC equivalent
(Native English speakers, and those who have previously graduated from a programme taught in English, are exempted)
Application process: Online application + online interview