MSc International Finance
Managing International Finance Today
MSc International Finance is designed to provide international students with the skills to compete in the global business market.
Master of Science with a major in International Finance • 1 year, full-time, 450h of class, conferences and projects, 60 ECTS credits • Leonard de Vinci School of Management (EMLV) • Paris La Défense Campus • Application deadline: July (applications submitted after july are treated by remaining places) • Programme start: October.
---
General Objective
Finance, Business risk Management and Portfolio management, drive company evolution. Indeed, finance enables to develop strategic responses and align company objectives. The MSc in International Finance will teach you to support corporate strategy and financial markets. With growth and in a favourable global environment, companies are increasingly facing financial changes.
Financial valuation, Mergers & Acquisitions, Portfolio diversification, Financial instruments, Digital currencies and Blockchain technology are among the fundamental topics included by managers in their financial strategy.
Company development and strategic decisions are increasing growth of activity. New jobs are required to support organisations in their financial and strategic evolutions. The MSc in International Finance is organised to provide you with the multiple skills required to become a financial analyst in a financial institution or a finance department.
Learning Outcomes
The essential elements required for the financial strategy, so as to orchestrate the different financial operating managers and financial engineering options and rise to the challenges and goals of the company. Students will be able to make decisions in complex and financial environments. They will know how to:
Identify the relevant financial strategies
Price complex financial instruments (exotic options, derivatives…)
Understand how to turn a company into a financially efficient organisation
Make investment decisions for portfolio management purposes
Lead the financial instruments for an allocated portfolio
Define an action plan for financial operations to realise great value opportunities
Managing International Finance Today
This program is designed for students wanting to participate work in corporate decision making with firms and market activities.
This programme will enable you to identify the most appropriate strategies to be implemented to cope with financial challenges. After completing this programme, you will be ready to implement financial strategy and understand financials frameworks.
You will study the financial principles to enable you to intervene in international finance operations. You will be capable of identifying the financials opportunities, and the strengths and weaknesses of organisations engaged in financial operations. You will be able to implement new management frameworks in financial departments and become an actor in financial markets. The MSc trains students to be capable of identifying the most efficient financial operating procedures in international firms within corporate and market finance.
---
Programme Overview
This MSc will enable you to participate in operational cases interacting directly with companies' financial teams, and to understand strategic decisions and financial options.
At the end of the programme, you will have an option of a 4-month internship or a dissertation. EMLV will give you access to a list of internship and job offers in your field through its Corporate Relations Department, Alumni network, school and MSc partners.
Semester 1
INTERNATIONAL FINANCE
Financial Instruments
Options, Futures and Swaps
Visual Basic for Applications (VBA)
Financial Markets
Disruptive technology and blockchain
FINANCIAL ANALYSIS
Corporate Investments
Corporate Finance
International Financing Accounting
Financial reporting
Bloomberg test preparation
MANAGEMENT SKILLS
Ethics, Skills and Behavior
Securities Law & Compliance
Consultancy Management
Management & Leadership
Professional Skills & Employability Development
CONFERENCES WITH FINANCIAL MANAGERS
FRENCH AS A FOREIGN LANGUAGE
Semester 2
FINANCIAL OPERATIONS
Financial Valuation
Private Equity
Mergers & Acquisitions Strategy
Financial Engineering
Business Plan
ASSET MANAGEMENT
Portfolio Management & Analysis
Portfolio Diversification
Risk Management
Cryptocurrencies & Digital currency
Alternative Investments
RESEARCH METHODS
CAREER DEVELOPMENT
DISSERTATION OR INTERNSHIP
Career opportunities
The MSc in International Finance programme offers a wide range of employment opportunities in a multidisciplinary and international environment. MSc students aspire to leading roles such as:
Manager middle-office
Account manager
Broker
Financial analyst
Portfolio manager
Treasurer of a firm
Financial Analyst
Merger & Acquistion Consultant
Compliance Officer
Financial operational Consultant
Financial Project Manager
Fund Manager
Sales & Broking
CFO
Head of treasury department
---
How to apply
We offer an excellent work environment with state-of-the-art facilities in the heart of the largest financial district in Europe, Paris-la Défense.
From day one, when the International Relations Department meets you at the airport and helps you settling in Paris, you will get support from administrative and academic staff to make your learning experience in Paris really amazing!
Duration
One year, full-time programme
INTAKE : October
TUITION FEES : 10200 € per year
Number of places : 35
Entry requirements
Applicants must have an International Bachelor Degree (240 ECTS or equivalent).
English test IELTS 6.5 or equivalent requested
Interview (either face-to-face or at distance)
For more information contact
Zoë Jofeh
International Programmes Manager
Pôle Universitaire Léonard de Vinci
Tel : +33 (0)1 41 16 70 93
international.admission@devinci.fr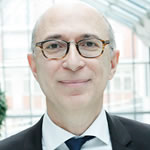 Prof. Yves-Alain Ach
Director of MSc International Finance
yves-alain.ach@devinci.fr