2019 has definitely witnessed some of the best digital marketing campaigns out there. This means that the bar has been set on a high level for the upcoming year. 2020, what have you in stored for us?
Marketers need to be ahead of the curve by being creative and trend-conscious over the coming year. So what are the digital marketing trends that can't be ignored in 2020?
Omnichannel Marketing
Going into 2020, many brands will start incorporating omnichannel marketing experiences into their strategy to provide an overall smooth and seamless experience to the customer. Mainly through social media, users are able to jump from one link onto the next and get all the details of the product or service they've been searching for with minimal effort. Whether they end up purchasing online or visiting a nearby store, they end up saving effort and time.
Digital Marketing Trend: Voice Search
As much as people tried to avoid it by resisting, it looks like the voice search is one of the digital marketing trends that are here to stay. It's estimated that 50% of searches made in 2020 will be done via voice command. With virtual assistants proliferating the market the transition is becoming more natural. From a digital marketing perspective, this shift will drastically affect longtail keywords and their effectiveness, ultimately resulting in a big change in SEO strategies.
Pinpointed Local Search Results
Despite the whole globalization, a lot of businesses rely on their local activity and cater to the local demographics. This being said, small businesses that are rising will constantly put into action pinpointed local search results and provide accurate information on their website and on their Google My Business Listing to gain more visibility and reach from the local community that consists of their target audience and first paying customers.
Digital Marketing Trends and the Power of Mobile
Yes, mobile is still king. With the ongoing unrolling of the 5G network, 8 factors will set it apart from previous networks and put it on the "evolutionary" map of technologies:
Reliability
Throughput
Service deployment
Mobility
Connected devices
Energy efficiency
Data volume
Latency
This update in cellular capabilities will change the mobile marketing game for good, starting in 2020.
Chatbots
This AI-based technology uses instant messaging to chat in real-time customers or site visitors. The latest surveys showed that Chatbots will power 85% of customer service by 2020, especially people preferring as little human contact as possible, and feel more comfortable receiving answers quickly and in a straight-forward manner.
Moreover, at EMLV Business School, MBA students specializing in Digital Marketing Strategy take an in-depth course of Marketing 360-Cross Channel Marketing where they get to develop a chatbot from start to finish and learn all the tips and tricks of creating a smooth messaging experience for customers.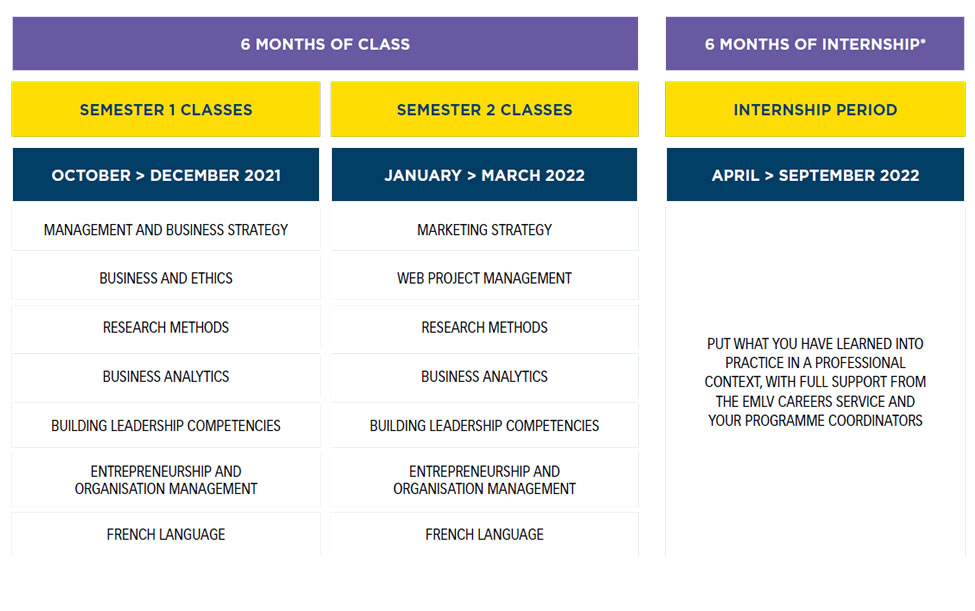 Personalization
This is no surprise. Businesses and brands that personalize their marketing channels and content have a competitive advantage. 63% of consumers are highly annoyed with generic advertising and find a more personalized experience more appealing and ultimately leading to more brand connection and loyalty.
Ready to tackle the new year like a digital marketing boss? Enroll in the MBA Programme and get ready for an immersive experience at the heart of digital technology!