Have you already entered Higher Education but wish to switch your degree program? Would you like to switch to a degree that suits you without losing a year?
The De Vinci Business School offers an accelerated study program to become a manager.
AN ACCELERATED SEMESTER
There are 19 weeks of intensive classes, from mid-February until mid-July and 100 hours of teaching time with staff from the three schools: an important point about the Group Leonard de Vinci is that the curriculum is made up of at least 100 hours of interdisciplinary modules (finding out about a company, study projects, communication skills, IT skills, English). During the first week, there is an orientation program for students of the three schools: EMLV (Business School), ESILV (Engineering School), IIM (School of Web Design and Multimedia).
RESTART-POSTBAC 2015 – USEFUL INFORMATION:
Official course start date: Monday 23 February 2015
End date: mid-July 2015
Classes will be held on weekdays + possibly Saturdays (especially during exams)
Face-to-face teaching hours: 366 hours
60 ECTS will be awarded upon successful completion of the program
Admission requirements: student file, cover letter and interview
Online registration available from 10 December
Application fee: 40 Euros / free if you a state grant holder
Tuition/Program fee: 4,900 Euros
Number of places available: 30
https://www.emlv.fr/en/syllabus/restart-postbac/
Start your online application
RESTART-POSTBAC 2015 – FAST TRACK PROGRAM
Course units that are available to students of all three schools at the Group Leonard de Vinci (EMLV, IIM, ESILV): Business-simulation games and discovery learning, research methodologies, student project (PERS), written and verbal communication skills, English, sport (optional).
Course units only available for students at the Business School (EMLV): accounting and finance option, sales and marketing option, business and business environment option and market analysis project.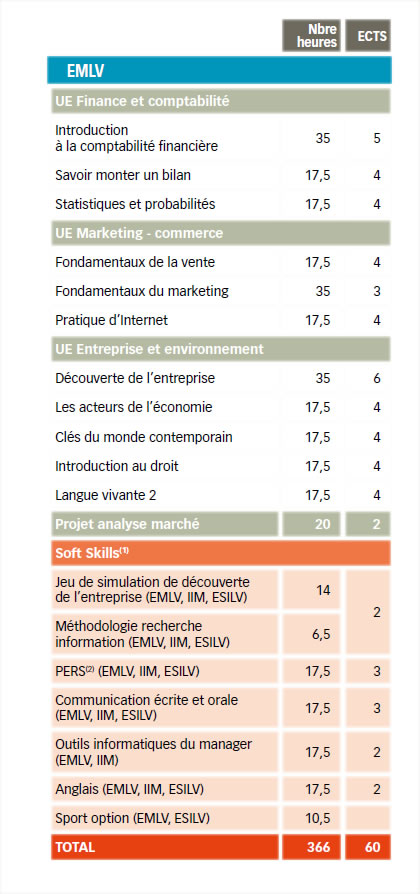 EMLV
The De Vinci Business School awards a 5 year degree accredited by the Ministry of Higher Education and based on a career-centered training program. The EMLV is in a unique position to welcome students with strong potential. The curriculum at the EMLV emphasizes the importance of personal development of every student. The third year spent studying abroad and working in a company (internship) enables students to quickly understand the needs of a business and its code of conduct.
Major specialisations: Digital Marketing Strategy, Marketing-distribution, Corporate finance-risk management, Management accounting and information systems, Management & human resources, Sport management and marketing, Entrepreneurship (5th year also offered to ESILV and IIM).