The EMLV and ESILV, business and engineering schools, are opening their doors to international students through the Orientation Days. This initiative is part of the Welcome to France label, which aims to make it easier for international students to come and stay in France.
De Vinci Higher Education schools recently organised Orientation Days to welcome their international students as part of their growing internationalisation drive.
What are Orientation Days?
The primary aim of Orientation Days is to offer international students a warm and efficient welcome, enabling them to integrate quickly into their new environment.
The emphasis is on introducing the key people in the educational field and providing essential administrative information. The aim is to make their transition to student life in France as smooth as possible.
An initiative under the Welcome to France label
This initiative was made possible by the Bienvenue en France label, obtained by the schools in 2020. This label, orchestrated by the French authorities, aims to make France more attractive to international students.
This label is part of a broader initiative to promote French higher education worldwide by simplifying administrative procedures and improving the quality of the welcome offered.
The school's International Relations Department organises Orientation Days and has established a network of partner Universities that are carefully selected to ensure that programmes match together.
They aim to provide international students with the best possible welcome, specifically through the Welcome Desk.
A coherent and effective approach for students
The current format of the Orientation Days was introduced in 2022. Before that, each school organised its induction process for international students.
This consolidated and unified approach has resulted in a more coherent and efficient system for welcoming international students, strengthening their experience at EMLV and ESILV.
Multiculturalism at EMLV and ESILV
International students come from a variety of backgrounds. Participants in Erasmus programmes come mainly from Europe, while those enrolled through the International Admissions Department come from India and other parts of the world.
This cultural diversity contributes to enriching student life and creating a multicultural environment conducive to learning.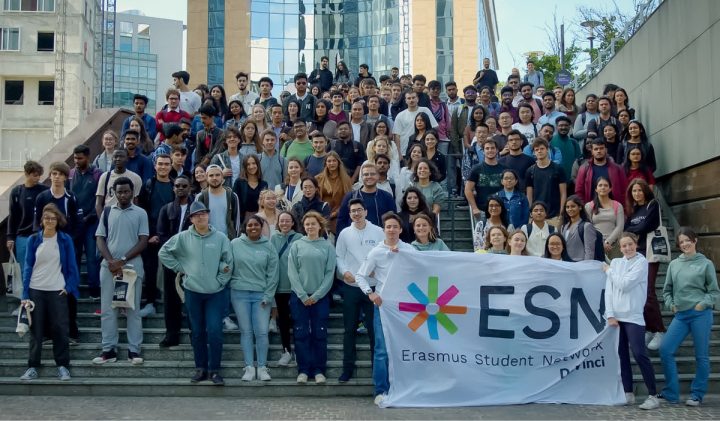 EMLV adhère à la Charte Erasmus
ESN DeVinci, an essential reference for exchange students
The mission of the Erasmus Student Network at De Vinci Higher Education Campus is to make international students' stay in Paris an unforgettable souvenir. Under the Students helping Students principle, ESN DeVinci welcomes international students to Leonard DeVinci schools (ESILV, EMLV, IIM).
Working in close collaboration with the International Relations Department of the school, ESN DeVinci brings students the best events and integration. ESN DeVinci believes every student's international experience should be filled with excitement, cultural exchange, and lifelong friendships.
The association carefully curates events to immerse international students in French culture. For example, an agenda with main events is available on their social media and a "survival guide" on their website.
Why choose EMLV and ESILV?
There are many reasons why international students select EMLV and ESILV.
For exchange students, the extensive network of university partnerships and the appeal of the French capital play a key role.
English-language programs, opportunities for double degrees, and the proximity of La Défense to the professional sector all play a role in influencing their choice.
The Orientation Days at EMLV and ESILV reflect the schools' commitment to offering a high-quality welcome to international students as part of a broader initiative to boost France's attractiveness as a study destination.
Learn more about the international dimension of the EMLV