Already very important, the FrenchTech (the network of startups in France) is more and more growing in France. France is the first country in Europe in terms of high-growth startups.
Latest proof to date, the Franco-German startup Doctolib, a medical advice platform and a patient support forum, has raised 150 million € from investors located in USA. Now the company's valuation is brought to over 1 billion € ($1.14 billion), making it a "unicorns" (startups that valued above the threshold of 1 billion €).
At EMLV, students visit French and international firms as well as startups and the FrenchTech. It is part of the programmes.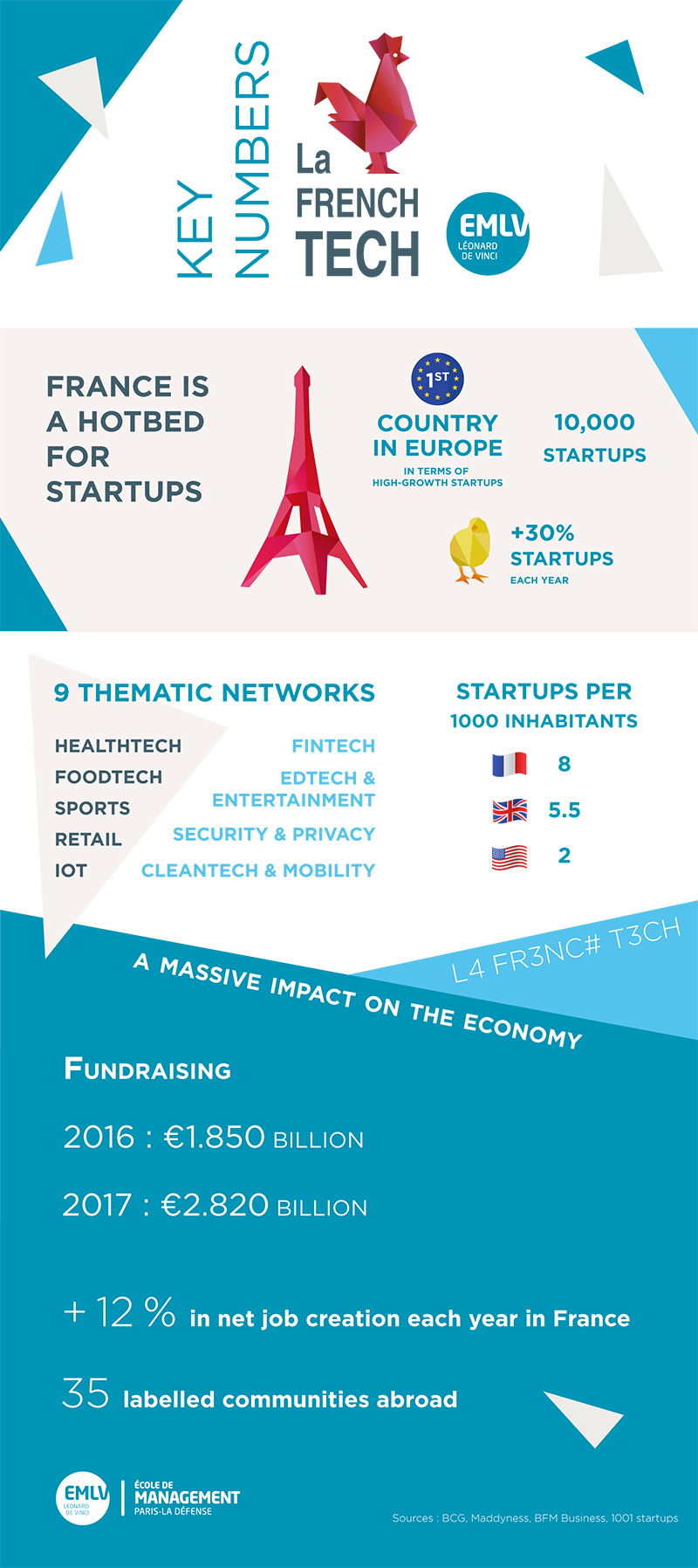 About EMLV
EMLV (School of Management Leonardo de Vinci Business School) is a graduate school of business and management post-baccalaureate Bac + 5 – Master's degree – providing a master's program. A general management education over five years with several specialisations. Among the school's strengths are digital, marketing, HR, finance, innovation and entrepreneurship in the context of digital business transformation. The School welcomes each year an incoming class that includes high-level athletes as part of an adapted curriculum. Soft skills and transversal projects (20% of the curriculum) and double degrees with its sister schools (Engineer-Manager with ESILV and Digital Marketing & Data Analytics with IIM) make its offering unique. The program allows students to quickly understand the requirements and culture of business in France and abroad. 1500 students – 6000 alumni. Labeled EESPIG, EMLV is a member of AACSB, EFMD, AMBA, CGE, Campus France, UGEI, IAB, Global Compact and LearningLab Network – www.emlv.fr / www.devinci.fr
About the Leonard de Vinci Pole
The Leonard de Vinci Pole is made up of three higher education institutions offering recognized degree programs that cover complementary academic fields, particularly in the digital sector: a business school, EMLV (Leonard de Vinci Business School); an engineering school, ESILV (Leonard de Vinci Engineering School), and a digital/multimedia school, IIM (Institute of Internet and Multimedia).
The schools share a common research laboratory: De Vinci Research Center (DVRC).
In 2018, the Pole had 5500 students (700 on a coop/apprenticeship track), 8200 graduates, 220 collaborators (including 150 full-time, permanent faculty members) and more than 700 adjunct faculty from both the academic and professional worlds.
Founded in 1995, the schools share the Pôle Universitaire Léonard de Vinci campus located in Paris – La Défense, a renowned business and trade center in the heart of the French Capital. The campus is organized around common values of hybridization, professionalization, internationalization, diversity, sports and a corporate culture. Hybridization is the result of the transversality that exists among the three schools: common modules and projects, progressive and intensive development of soft skills, an incubator, a FabLab, extracurricular activities, sports, double degrees … Engineers, managers and internet/multimedia designers and developers learn to live and work together beyond the boundaries of their own curriculum. www.devinci.fr