In this tribune, Erik Ernesto Vázquez, Head of the MSc Digital Business & Analytics, explains that decentralized virtual cryptocurrency (DVC) have been widely adopted. People speculate on the currency value and use it as another investment option without fully understand it. Although there are economic fundamentals that sustain the value of DVC based on the growth of e-commerce, arguments that support the adoption of DVC focus on the chance of gain (speculation) rather than on the risk of loss.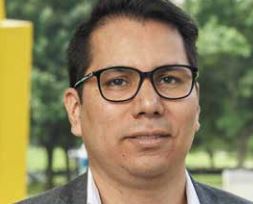 Erik Ernesto Vázquez graduated from a doctoral degree at the University of Newcastle upon Tyne in the United Kingdom and Grenoble École de Management in France where he specialized in digital business. Erik has been MBA director, director for studies in business administration and human resources as well as a tenured professor in digital business before joining Leonard de Vinci Business School (EMLV) as Head of the MSc Digital Business & Analytics.
How DVC such as Bitcoin could decrease operational risks for companies?
May Fintech behind banking innovations such as the Blockchain be valuable for other applications?
The Bitcoin, the largest DVC has a rough year according to the Financial Times. This cryptocurrency devaluated approximately 80% costing millions of dollars to speculative investors. This resembles an economic bubble such as the dotcom almost two decades ago or the real state bubble a decade ago. In both cases, the bubbles led economic turmoil. Yet, the DVC bubble is not of the same scale but it teaches us Fintech lessons about how banking innovations will continue to emerge.
The analysis of technology behind the DVCs
The so-called Blockchain technology is a clear example of this development, which can also be used in other industries rather than banking. Rather than aiming to earn a quick return investing in Bitcoin, one must explore the technological advancement and possibilities of the Blockchain.
This technology could be applied to enable transparent trading. This is particularly valuable for art auctions or the resale market of luxury goods in which the validation of the history of transactions is a key information piece for pricing. Blockchain may also serve to validate the integrity of the flow of parts through a global supply chain. This integration could also serve to identify quality problems in manufactured goods before it is too late.
In conclusion, the performance of DVC such as the Bitcoin is not as important as the possibilities that each technological advancement such as the Blockchain portrays in this dynamic economy.
MSC DIGITAL BUSINESS & ANALYTICS
The MSc Digital Business Analytics explores diverse digital business models, analytical frameworks and new tools that shape today's business environment.
It prepares future consultants or managers to become executives and part of the international community in this digital world.
The course prepares students for career opportunities on the international scene in the field of digital business consulting, e-commerce, value chain management, digital ventures, and business analytics.
MSC DIGITAL BUSINESS & ANALYTICS AT EMLV
About EMLV
EMLV (School of Management Leonardo de Vinci Business School) is a graduate school of business and management post-baccalaureate Bac + 5 – Master's degree – providing a master's program. A general management education over five years with several specialisations. Among the school's strengths are digital, marketing, HR, finance, innovation and entrepreneurship in the context of digital business transformation. The School welcomes each year an incoming class that includes highlevel athletes as part of an adapted curriculum. Soft skills and transversal projects (20% of the curriculum) and double degrees with its sister schools (Engineer-Manager with ESILV and Digital Marketing & Data Analytics with IIM) make its offering unique. The program allows students to quickly understand the requirements and culture of business in France and abroad. 1500 students – 6000 alumni. Labeled EESPIG, EMLV is a member of AACSB, EFMD, AMBA, CGE, Campus France, UGEI, IAB, Global Compact and LearningLab Network – www.emlv.fr / www.devinci.fr