"The Great Resignation" is taking a heavy toll on American businesses. However, some optimists see hope in this historic job turnover.
Grégore Luthier, class of 2014, campus & internal mobility manager at BNP Paribas in Montreal, believes that this is an opportunity for young people to break the boundaries between different fields of study to maximize their success in the job market, both in France and abroad. During a networking session with the work-study students, he shared advice on using this moment to bring change in their career paths.
The "Great Resignation", an underlying trend underlined by the health crisis
"The Big Quit", "The Great Resignation", or more French "la grande démission," is sweeping the US and seems to be troubling the French HR profession. According to the latest figures from the Direction de l'animation de la recherche, des études et des statistiques (Dares), between June and July 2021, no less than 302,000 French employees left their permanent contracts, compared to 263,000 in 2019. French companies are stepping up their efforts and imagination to attract and retain talent among unfilled jobs, employee retention, and growing needs for digital skills. This trend was spotted long before the start of the health crisis by human resources consulting firms like Robert Half, which in 2019 estimated that 64% of employees interviewed took a positive view of job changes. In December 2021, the Ifop barometer for Freelance.com indicated that 41% of executives have considered resigning.
There is consensus on companies witnessing a shift in priorities and values and increased ambitions among the most skilled employees who are now expecting more flexibility, more autonomy, healthier work cultures, and more flexible management styles.
These expectations require a new perspective for resilient businesses. They must draw on the "great resignation" lessons to make the "great seduction" a real strategy to win the war for talent. HR leaders look to internal mobility, training, and skills development programs to drive employee engagement and retention in today's increasingly competitive market.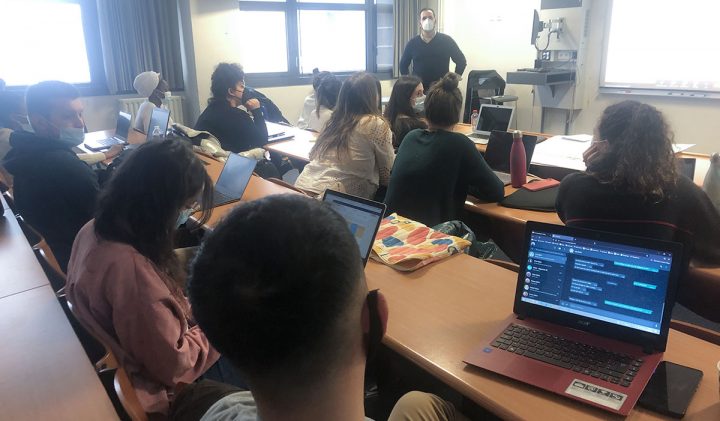 Grégoire, class of 2014, gives a talk to the EMLV students
As a specialist in these topics, Grégoire, an EMLV graduate and campus manager for the Quebec branch of BNP Paribas, has returned to the classroom to share his experience in the HR industry.
Riding the " Great Resignation " to broaden one's field of expertise
According to Gregoire, the " great resignation " movement is the right time for future business school graduates to expand their skills by trying to get out of their chosen fields to open up to new horizons.
"Today, more than ever, plenty of opportunities are available in all fields, whether we're talking about digital, human resources, marketing, finance, etc.," Gregoire explained.
The Master in Management programme provides you with the proper academic background and practical training that will meet your career needs throughout personal and professional development.