Victor de Neyrieu, student in 4th year at the De Vinci Business School and president of LéoAventure (LeoAdventures), presents the adrenaline driven student association and its participation in Europe's largest student sporting event (the EDHEC cup).
"LéoAventure is an association made up of students from the EMLV, ESILV, and IIM.
We organize activities that are centered mainly on inducing an adrenaline rush. In the past, we have organized sky dives, bungee jumps, free fall simulations, paintballing, and laser quest trips, etc.
We organize an evening gala with the sailing club (LéoVoile) every year and participate in other on-campus events.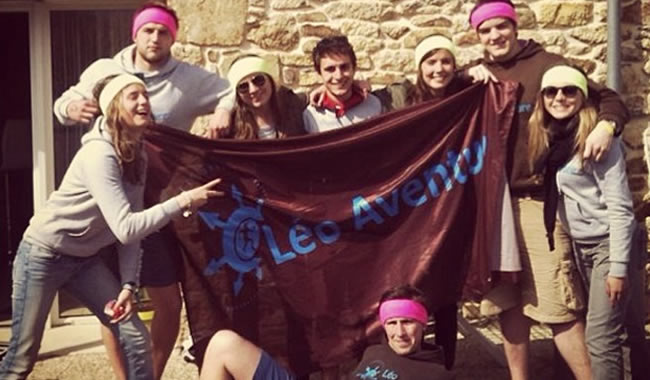 This year, there are more than 50 active members. For 6 years, our aim has been to participate in the Europe's largest student sporting event, the EDHEC cup competition. In order to do this, we need financial support from sponsors. Members of the association work to find sponsors, to make our participation in the EDHEC competition as easy as possible.
Around 3000 students from all around the world take part in the event every year. It is the biggest student event in Europe and this year's 46th edition took place at Sables d'Olonnes in Western France.
Each year, around 10,000 visitors come to take part in the experience, which is a mix between sport and entertainment. In addition to the regatta, there are also numerous 'off water' events such as the Land, Sea and Earth trophies.
LéoAventure participates in the Land trophy and Earth trophy. The first is a series of physical tests that take place throughout the week: orienteering competitions, building bivouac shelters, mountain biking, abseiling, kayaking… On average, our runners ran 12km every day. This year, we finished 37th overall after a complicated start to the week where one of the tests, in which our team came 5th place, was cancelled.
The Earth trophy involves several tests: beach rugby, beach soccer, beach volley. Each day of the week is dedicated to a different sport. This year, we were not able to defend our title in beach rugby after being eliminated in the quarter finals. We did, however, win the beach soccer tournament after a strong performance in the final phase. This allowed us to finish 3rd in the Earth trophy.
Two things about the event really stick out in our minds: firstly, our victory in the beach soccer tournament, because it's always nice to win a trophy, especially after our defeat in the rugby tournament.
This marks 3 consecutive years that we have won at least one tournament in the Earth trophy.
Secondly, there was an incredible atmosphere throughout the whole week. We met several people from other schools; everyone got along with everyone else. It was fantastic.
There was not much difference compared with last year, except for how the competitions were organized. The main objective is that everybody makes an all-out effort to represent their school and association. The rest is just details to make it an intense week with tougher competition for the trophies each year.
For future students of the Pole, I would highly recommend joining an association. It makes the school a more dynamic place, it's a good opportunity to meet lots of new people plus it makes student life more enjoyable.
The student associations at the Group Leonard de Vinci are a big driving force on campus and provide an opportunity that all students can take advantage of!"
Léoaventure in the EDHEC Cup 2014:
For more information about the association, please consult: